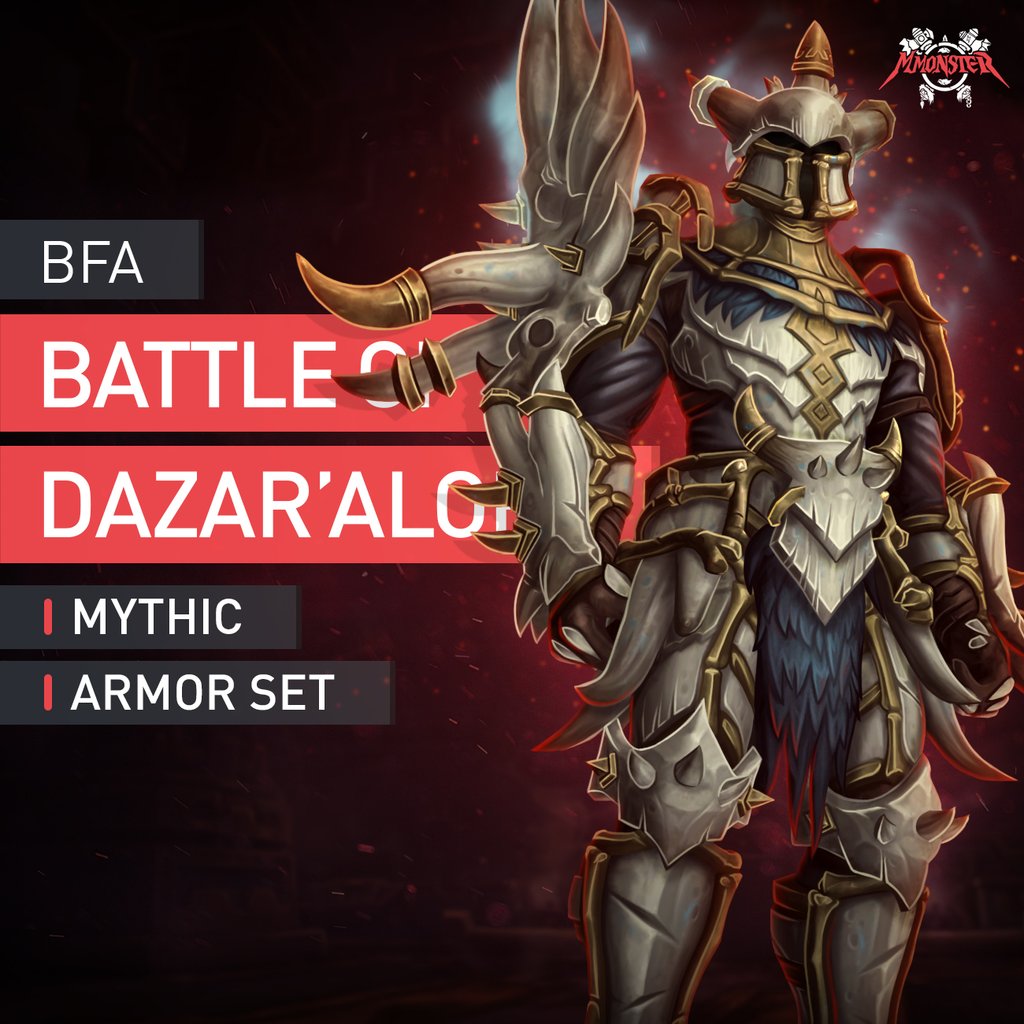 Battle of Dazar'alor Mythic Armor Set
You will get full Battle of Dazar'alor Mythic Armor Set (Complete Look) for your chosen class
Login and p

assword in case of account sharing option, your account safety guaranteed.
Boost may take several (3-6) weeks to be done.
First major World of Warcraft content update 8.1 arrives on December 12. It's called Tides of Vengeance and brings us new Battle of Dazar'alor Mythic raid which becomes available on January 29 featuring a whole new experience for each faction independent progression and unique bosses. Both the Horde and the Alliance have their own starting points and own ways passing through a total of 6 bosses and culminating their stories with their own final encounter: King Rastakhan for Alliance and Jaina Proudmoore for Horde. Then each faction experience 3 opposite faction's encounters through different flashback stories having a total of 9 encounters and Lady Jaina Proudmoore herself as the last encounter of the raid.
Here you can buy cool-looking Battle of Dazar'alor Mythic Armor Set for transmogrification from Battle for Azeroth Battle of Dazar'alor Mythic Raid. You'll get a total of 7-8 items to complete your Battle of Dazar'alor Mythic Look. It's nearly impossible to get all parts of an Armor Set during one run, you usually need 2-3 or even more raids for it. Your character will be taken to BOD Mythic Raid needed amount of times until you have the complete look. If you already have a pair of set items, we can offer missing parts at a lower price.
You can buy Full Battle of Dazar'alor Mythic Armor Set farm boost with account sharing or selfplay. Our professional and trusted Mmonster players will kindly boost your character with this World of Warcraft (WOW) Battle of Dazar'alor Mythic Armor Set boosting service really fast so lean back and watch your character collects all those tasty rewards and achievements and tremendously grows in power!
Login or Register with...