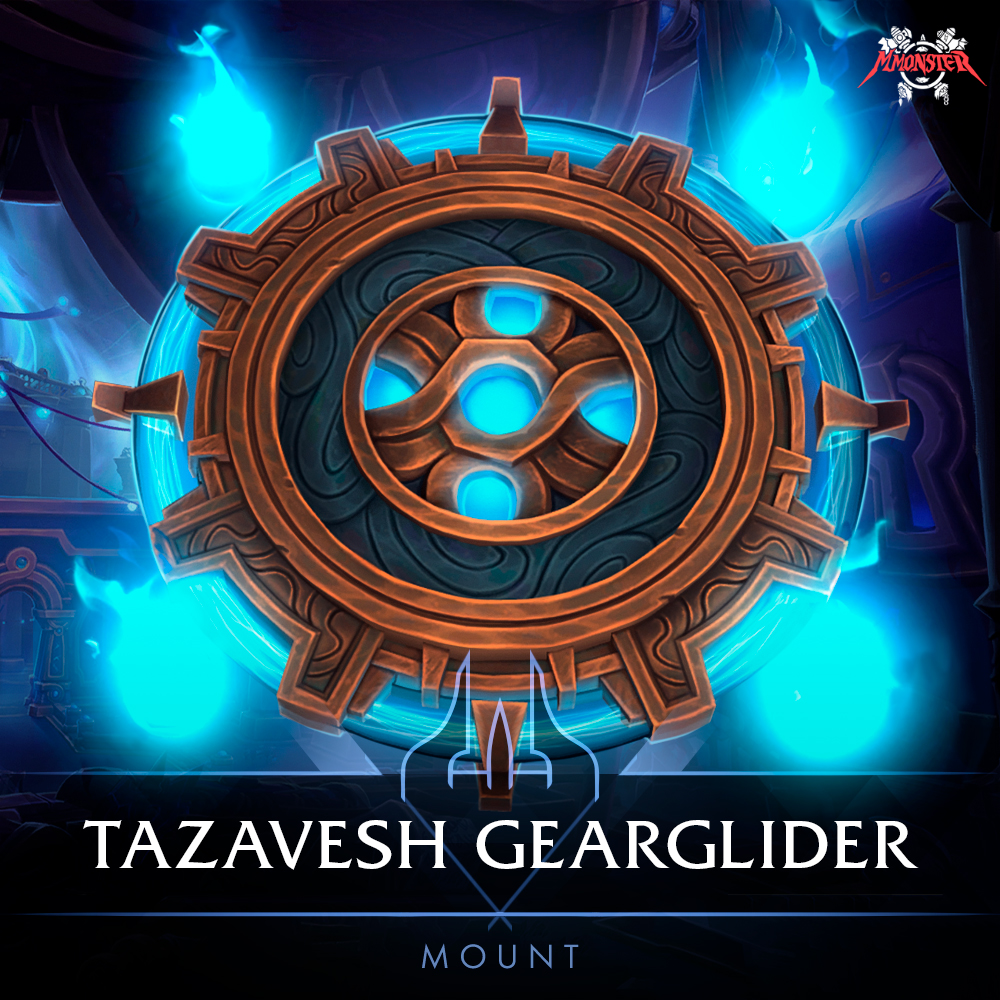 Tazavesh Gearglider Mount Boost
Here you can buy
Tazavesh Gearglider Mount Boost

to complete Tazavesh Megadungeon on Hard Mode and get unique cool-looking

Tazavesh Gearglider

flying mount as ultimate reward
8/8 Tazavesh Megadungeon run completed on Hard Mode participating in one of the best 5 people boosting teams
233 item level loot for your character's chosen class and spec including socketed items
Chance to obtain Conduits for your Covenant Soulbinds customization
Tons of Anima to upgrade your Covenant Sanctum buildigns or to buy come cool rewards
Login and password in case of account sharing option, your account safety guaranteed.
Tazavesh Gearglider Mount Boost

- the best way to complete Tazavesh Megadungeon on Hard Mode and obtain your Tazavesh Gearglider mount fast and easy

Tazavesh Gearglider is a new long-awaited flying mount added in Shadowlands 9.1: Chains of Domination patch and it is a final reward for completing all 8 bosses in Tazavesh, the Veiled Market on Hard Mode. To activate Hard Mode players have to perform special activities at the start of Tazavesh dungeon and obtain Passably-Forged Credentials item turning player into Broker, which allows him to start Hard Mode run. Currently it is one of the hardest group challenges the game can offer and it will take tremendous amount of effort and time to complete it. Buy Tazavesh Gearglider Mount Boost and we will complete Tazavesh Megadungeon on Hard Mode to get you this awesome Tazavesh Gearglider flying mount, so save yourself lots of time and be the one of the first to ride the mount and have the best gaming experience and pastime you have ever had.

You can buy Tazavesh Gearglider Mount boost with account sharing or selfplay. Our professional and trusted MmonsteR players will kindly boost your character with this WOW Shadowlands Tazavesh Gearglider Mount boost carry service really fast so lean back and watch your character collects all those tasty rewards and achievements and tremendously grows in power!

If you are a true WOW mount collector - check our WoW Mounts page as we may have the rarest mounts in game for you. Check our Shadowlands Mounts page if you'd like to see only the latest mounts available in World of Warcraft: Shadowlands expansion!
Login or Register with...