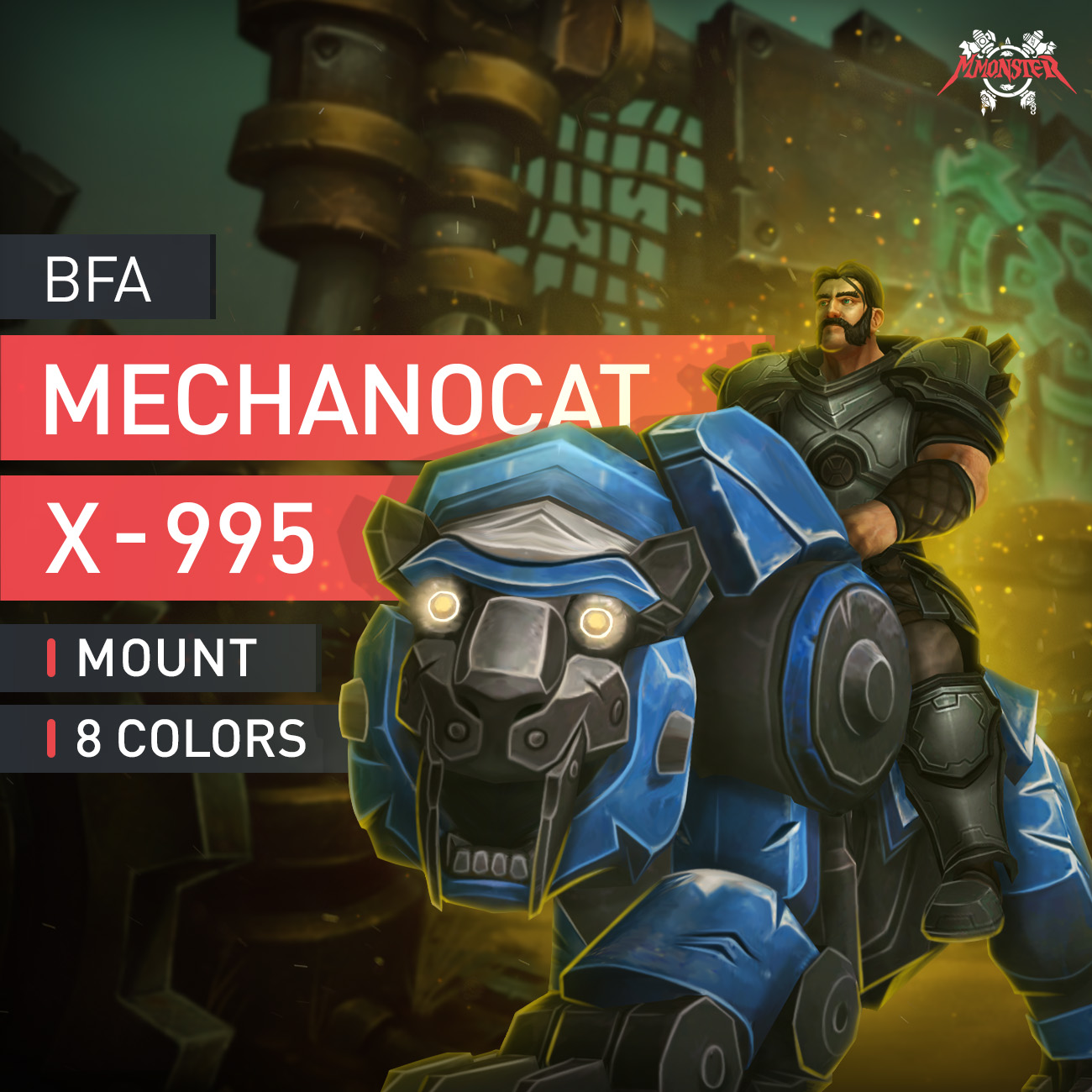 You can additionally get all 8 Paint Vials to unlock all mount colors, simply select this extra option. You will get Available in Eight Colors achievement
Login and p

assword, your account safety guaranteed.
Estimated Delivery Time of X-995 Mechanocat mount is up to 1 week. Estimated Delivery Time of all 8 Paint Vials is up to 3 weeks and highly depends on rares spawn.
The X-995 Mechanocat is a new mechanical cat ground mount added in World of Warcraft patch 8.2 Rize of Azshara and it is obtained from Junkyard Tinkering craft in Mechagon using special Blueprint: Mechanocat Laser Pointer and special materials which you eventually get after progressing further into the Mechagon storyline. This is the first customizable mount yet in game which can be painted in different colors after you find special paint vials which can be found as a drop from different rares or chests scattered all over Mechagon. There are total 8 paint vials to collect granting you Available in Eight Colors achievement. We provide the fastest X-995 Mechanocat mount farm boost on the market, so save yourself lots of time with this farm service from our boosting team.
You can buy BFA X-995 Mechanocat Mount boost with account sharing only. Our professional and trusted MmonsteR players will kindly boost your character with this World of Warcraft (WOW) BFA X-995 Mechanocat Mount boost carry service really fast so lean back and watch your character collects all those tasty rewards and achievements and tremendously grows in power!
If you are a true WOW mount collector - check our MOUNTS page as we may have the rarest mounts in game for you. Check our BFA MOUNTS page if you'd like to see only the latest mounts available in World of Warcraft: Battle for Azeroth expansion!
Login or Register with...