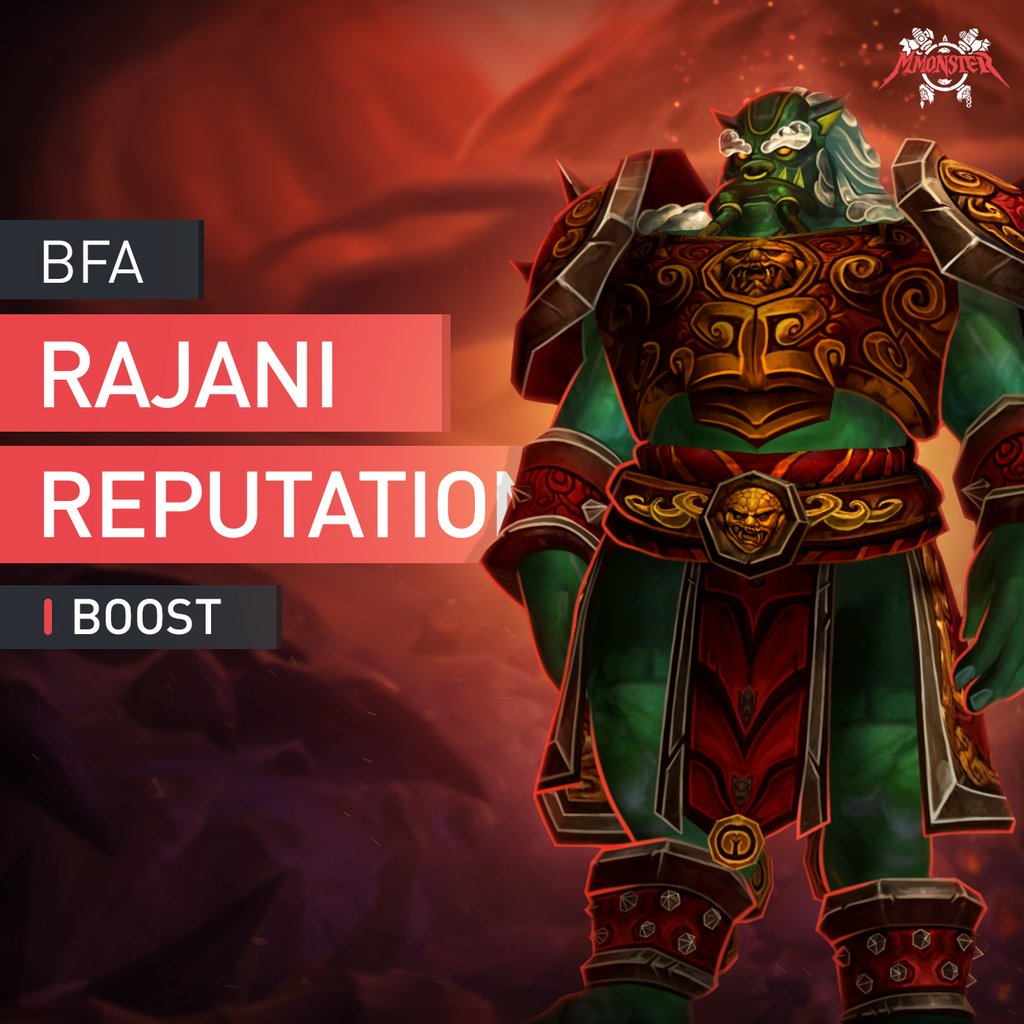 Rajani Reputation Farm Boost
You will get required Rajani reputation gained by completing different activities in Valley of Eternal Blossoms. You can learn more about this faction rewards in Rajani Reputation Guide
50 Lvl Character. Don't have one yet? Take advantage of our Power Leveling Boost service.

Black Empire Campaign completed to unlock Rajani faction reputation.
Login and p

assword, your account safety guaranteed.
Who are Rajani Faction and why you need to buy reputation farm boost
Rajani is a new faction added in World of Warcraft patch 8.3 Visions of N'Zoth expansion located in Vale of Eternal Blossoms. The faction is a group of mogu loyal to the titan keeper Ra-den and led by Stormspeaker Qian whose mission is to defend the Engine of Nalak'sha from N'Zoth's minions. Leveling reputation with Rajani faction unlocks some cool rewards such as new troops for table missions, Windfeather Quill battle pet, Rank 3 of Touch of the Everlasting and Spirit of Preservation Heart of Azeroth Essences and cool Lightning-Forged Augment Rune for getting Exalted reputation. There are several ways to gain reputation level, such as zone quests, world quests and new N'zoth assaults in Valley of Eternal Blossoms but even then getting Exalted reputation will take you several weeks to achieve. We will perform all the required activities to gain Exalted reputation with Rajani faction, so save yourself lots of time using this farm service by our boosting team.
You can buy Rajani Reputation Farm boost with account sharing only. Our professional and trusted Mmonster players will kindly boost your character with this World of Warcraft (WOW) Rajani Reputation boosting service really fast so lean back and watch your character collects all those tasty rewards and achievements and tremendously grows in power!
Check our table to know the exact lead time of your powerleveling boost

Rajani

Reputation
Estimated Delivery Time

(no longer than)

Neutral - Friendly
3 days
Friendly - Honored
5 days
Honored - Revered
9 days

Revered - Exalted

14 days