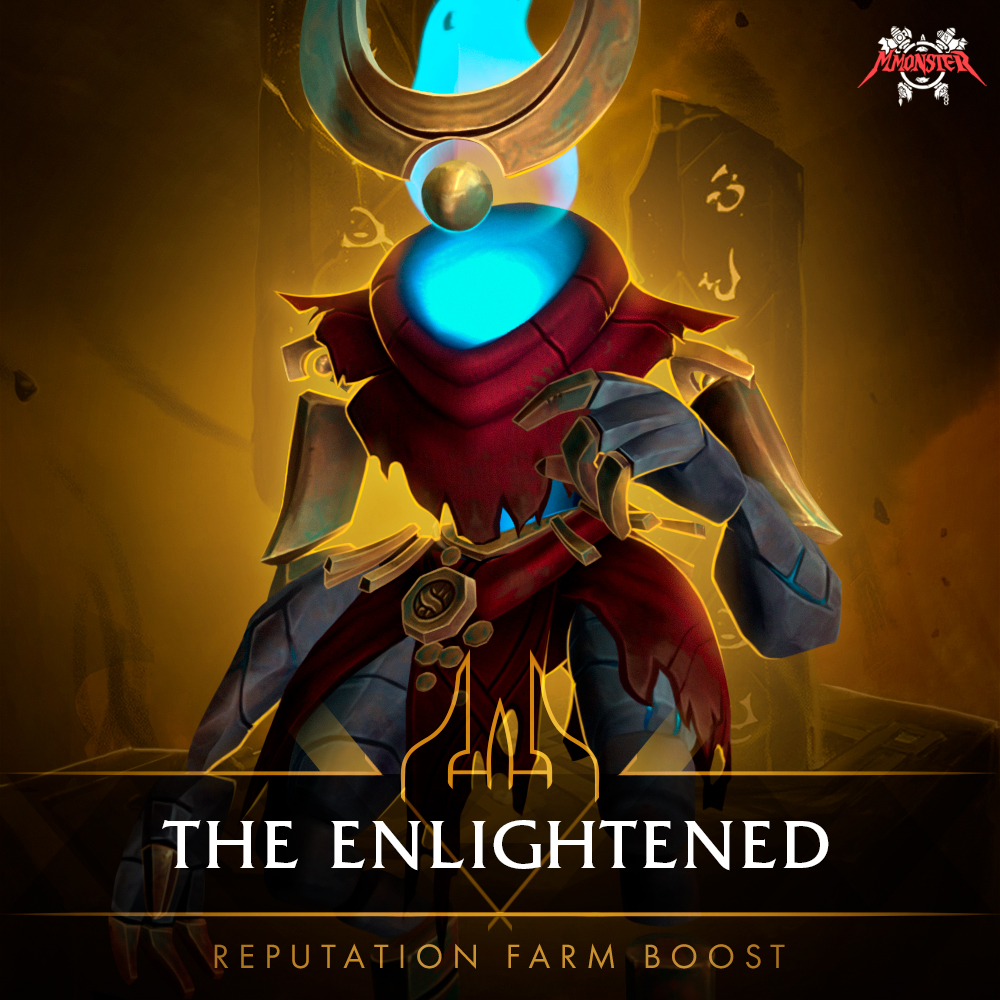 The Enlightened Reputation Farm Boost
Here you can buy
The Enlightened Reputation Farm Boost

to farm reputation with Enlightened brokers faction required to unlock some cool rewards for progressing and completing different activities in Zereth Mortis
Login and password, your account safety guaranteed.
The Enlightened Reputation Farm Boost

- the easiest way to farm your reputation with Enlightened Brokers Faction

The Enlightened is a new main faction added in WoW Shadowlands: Eternity's End 9.2 patch located in new Zereth Mortis zone. The faction is a group of Cartel Al of brokers which abandoned their self-interest ways and devoted themselves to seek the eternal knowledge of the First Ones and their creations. Leveling reputation with The Enlightened faction unlocks some cool rewards such as crafted gear for alts of 233 ilvl and 262 ilvl (unique equipped), Memory of Unity, allowing you to craft second Covenant Legendary item in all item slots, Tome of the Eternal recipe, required to craft Rank 7 legendaries, Decanter of Untapped Potential, unlocking all conduits of 239 ilvl for your character, Eternal Augment Rune, 2 unique mounts, toy and other rewards for getting Exalted reputation. There are several ways to gain reputation level, such as completing world quests, dailies, weekly quest and farming rares in Zereth Mortis, but even then getting Exalted reputation will take you several weeks to achieve. We will perform all the required activities to gain Exalted reputation with The Enlightened faction, so save yourself lots of time using this farm service by our boosting team.

You can buy The Enlightened Reputation Farm boost with account sharing only. Our professional and trusted Mmonster players will kindly boost your character with this World of Warcraft (WOW) Enlightened Reputation boosting carry service really fast so lean back and watch your character collects all those tasty rewards and achievements and tremendously grows in power!
Check our table to know the exact time of your reputation farm boost:
The Enlightened Reputation
Estimated Boost Time

(no longer than)

Neutral - Friendly
3-4 days
Friendly - Honored
11-12 days
Honored - Revered
22-24 days

Revered - Exalted

36-40 days
Login or Register with...