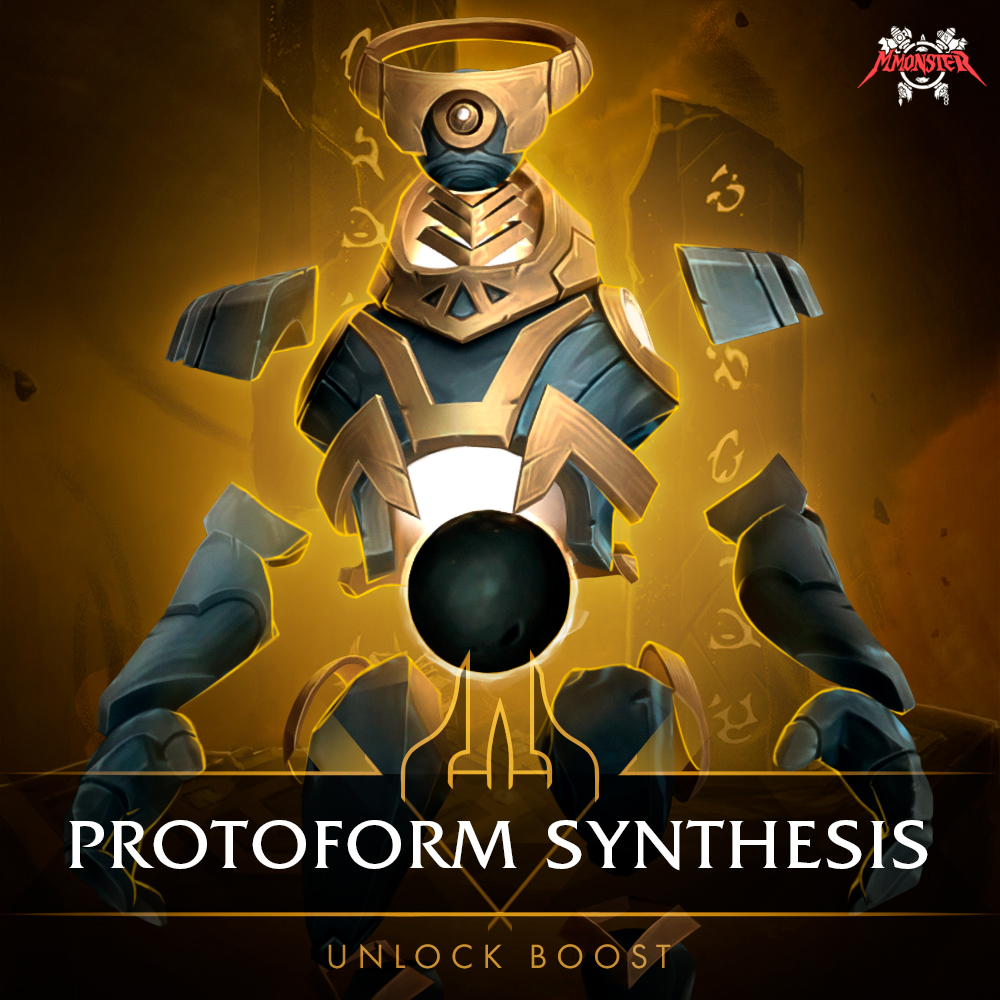 Protoform Synthesis Unlock Boost
Here you can buy
Protoform Synthesis Unlock Boost

to gain access to Protoform Synthesis system allowing you to craft new mounts and pets from reagents collected in Zereth Mortis
Zereth Mortis intro storyline (Chapters 1, 2 and 3 of Secrets of the First Ones Campaign) completed which unlocks access to new Patch 9.2: Eternity's End end-game content: Zereth Mortis daily and weekly quests, The Enlightened faction, Cypher Console and Cypher of the First Ones system, gear upgrades and other crucial activities
Login and password, your account's safety guaranteed.
Estimated boost time is up to 4 hours approximately.
Buy
Protoform Synthesis Unlock Boost

- the fastest way to unlock Synthesis Forges allowing to craft new mounts and pets

Eternity's End is the new WoW: Shadowlands patch 9.2 content update featuring the new undiscovered 60 level zone called Zereth Mortis which brings lots of end-game content, treasures, rewards, rares and, of course, new mounts and pets to make the collectors happy. Here new system was introduced called Protoform Synthesis which allows to craft new mounts and pets by collecting reagents from different sources in Zereth Mortis similar to Junkyard Tinkering system in Mechagon.

In order to fully unlock Protoform Synthesis system, players have to start Secrets of the First Ones Campaign and complete first 3 Chapters: Into the Unknown, We Battle Onward and Forming an Understanding. Upon completing quests during chapter 3 you will unlock Cypher Console and Cypher of the First Ones - talent based system, which grants lots of perks, buffs and other goodies in Zereth Mortis. After you research Dealic Understanding and Sopranian Understanding, 2 quests will become available, after completing which you will gain access to Protoform Synthesis system, allowing you to craft new mounts (Protoform Synthesis (Mount)) and pets (Protoform Synthesis (Battle Pet)) by collecting reagents from different sources in Zereth Mortis, which start dropping from rares, mobs and treasures. Also, after unlock, your Synthesis forge will already have several mount and pet patterns within it right away, with the rest patterns hidden and scattered all over Zereth Mortis. So what are you waiting for? Our boosting team will gladly help and unlock Protoform Synthesis system in the shortest time allowing you to obtain even more new mounts and pets from WoW: Shadowlands expansion increasing and enjoying your collection. We guarantee security of your account, complete anonymity and reliability of our powerleveling services.

You can buy Protoform Synthesis Unlock boost with account sharing only. Our professional and trusted Mmonster players will kindly boost your character with this World of Warcraft (WOW) Protoform Synthesis access boosting service really fast so lean back and watch your character collects all those tasty rewards and achievements and tremendously grows in power!
Login or Register with...